Have you ever tasted Yamazakiya's UNAGI?

Urawa is known with the best UNAGI in Japan.
Established over 200 years ago, Yamazakiya's UNAGI is one of most famous in the Urawa area.
Don't forget to enjoy the best UNAGI at Yamazakiya if you have chance to come to Urawa.
Yamazaki-ya's eels
In the Edo period, travelers on the Nakasen-do, one of the old Japanese main roads connecting Edo with other provinces, used to stop over at inns in Urawa. Some fragrance in this town prompted them to stay and gave them the happiest time ever.
Why is Urawa famous for eels? Since Yamazaki-ya was established in the Edo period,many years have passed and Yamazaki-ya has changed its appearance from time to time.
However, the taste has always remained the same.
Recently, Yamazaki-ya refurbished its premises into a new place where you can feel at ease and eat excellent eels.
Use the taste of Urawa eels to enrich your special occasions such as year-end/new year parties,welcome/farewell parties.
Buddhist services and ,of course, precious time with your loved ones.
So, why is Urawa famous for eels? The answer is simple. It's famous because of this fabulous restaurant.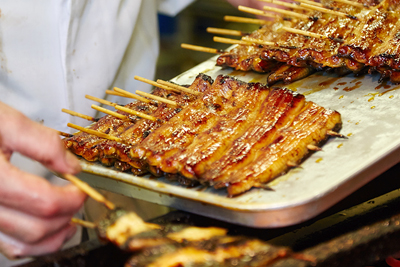 Menu
UNA-JU (with Japanese pickles)
Our famous broiled eels on rice
| | |
| --- | --- |
| Medium - UNAJYU | ¥4,200 |
| Small - UNADON | ¥3,600 |
| Large - UNAJYU | ¥6,000 |
※ size is determined by weight
SOUP
KIMOSUI
¥200
Clear soup with eel's liver
Miso soup with tofu and nameko mushrooms
KABAYAKI
Broiled eels with our traditional sauce
| | |
| --- | --- |
| Kabayaki・Shirayaki | ¥3,900 |
SHIRAYAKI
Simply broiled eel. Enjoy with wasabi and soysauce
| | |
| --- | --- |
| Kabayaki・Shirayaki | ¥3,900 |
SOBORO-JYU
Roasted ground chickin meat and a japanese omlet on rice
OUR SPECIALITIES
Sliced raw carp with a mustard vinegar sauce
Stewed carp in miso soup
Broiled eel in a fried egg roll
Seasonal salad with sesame flavored dressing
Steamed fish paste with wasabi and soysauce
Assorted pickled vegetables
THE ABOVE PRICE INCLUDE 8% CONSUMPTION TAX.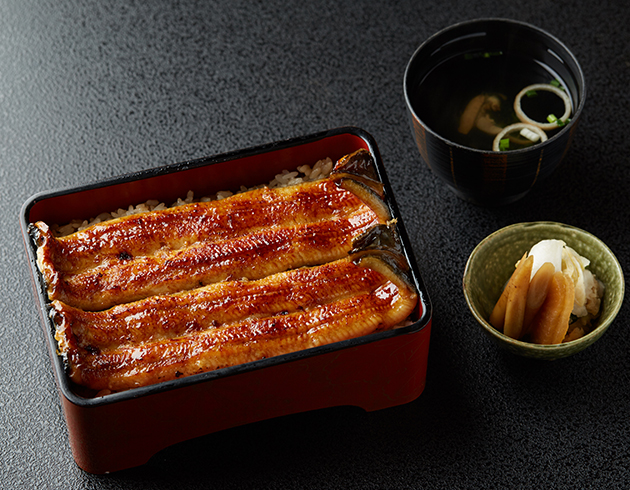 All seats are nonsmoking.

Smoking is not allowed in this restaurant so that all of our customers can enjoy the taste of eels.
You do not have to worry about the smell of the cigarette drifting from the seat next to you.
Enjoy both of the excellent taste and the fragrance of freshly cooked eels as much as you want.
Shop Name
Yamazaki-ya
Address
1-10-8 Naka-cho, Urawa-ku, Saitama-shi,
Saitama 330-0062, Japan
Access
For those who take train.
A five-minute walk. from the West Exit of JR Urawa station.
Walk to the right along the railroad track 150 meters,
turn left at the corner near Ito Yokado,
go straight through the shopping district,
turn right at Lawson, and go straight 50 meters.
Our place will be found on your right.
(Diagonally across from Urawa Royal Pines Hotel)
Phone
048-822-7116
Open/Close
11:30-14:00
17:00-20:00
(Last orders are taken at 19:30)
Closed every Monday and Tuesday.
(However, we usually open when it is a national holiday.)

営業時間
営業時間は"新着情報"に記載しております。
トップページの"新着情報"よりご確認ください。
定休日
月曜日、火曜日
祝祭日にあたる場合は原則として営業になります。
2023年10月の定休日
日
月
火
水
木
金
土
1
2
3
4
5
6
7
8
9
10
11
12
13
14
15
16
17
18
19
20
21
22
23
24
25
26
27
28
29
30
※9日は昼のみ
予定です。変更の可能性があります。